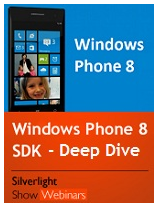 Introduction
I recently delivered a webinar for SilverlightShow titled, "Deeper Dive into the Windows Phone 8 SDK" The recording of the webinar is now available on-demand. Continue reading below for more information on what topics were covered.
Webinar Summary:
This session is a deeper dive into the Windows Phone 8 SDK. We will dive right into Near Field Communication (NFC), Native Code (C++), In-App Store purchases and Wallet transactions. We will also look at what it takes to leverage the new Maps introduced in the Windows Phone 8 SDK. So, if you already have a basic knowledge of Windows Phone 8 and want to dig deeper, than this session is for you.
Wrap-up
Thanks everyone for attending and remember that the video, slides and demo code is all available on SilverlightShow right now.
Tweet
Follow mbcrump
No new comments are allowed on this post.