Winners: @ianormy @RonPuckett @MOverlund
Introduction
Almost a year and a half ago (as you can probably tell from my bio in the screenshot), I sat down and starting reviewing the Silverlight 5: Building Rich Enterprise Dashboards book. Fast forward to last month, this book became available for sale. It was a pleasure being part of the technical review for this book and I learned a lot of things throughout the review. I wanted to take a brief moment and tell you what the book has to offer.

But first, the Giveaway
I've got 3 copies of the eBook to give away – sorry no physical books. I know that a majority of people would rather have the electronic version where they can take it with them everywhere. All you have to do is leave a comment below where I can track you down. I'd also appreciate you leaving your twitter handle where I can send you a tweet. I will randomly select 3 winners on 2/29, so act fast.
Book Overview
Microsoft Silverlight is a powerful development platform for creating rich media applications and line of business applications for the web and desktop. Silverlight enables you to create, customize and design rich enterprise dashboards that highlight Key Performance Indicators for your business.
Microsoft Silverlight 5: Building Rich Enterprise Dashboards is a concise and practical tutorial that shows you how to create, customize and design rich enterprise dashboards with Silverlight.
This book provides real world user experience design topics and starts by providing an overview of the Silverlight Platform and the clear advantages it provides for building dashboards. The book then dives into topics such as Silverlight design and development tools, building a basic Dashboard, Dashboard types and user needs, Designing for Insight, Styling, Building an End to End Dashboard Solution and Data Access Strategies amongst others.

The Table of Contents
Below is a list of topics that the book covers with a link to a page with more information.
Chapter 1: The Silverlight Technology
Chapter 2: Overview of Dashboards and Silverlight
Chapter 3: Silverlight Design and Development Tools
Chapter 4: Building a Basic Dashboard
Chapter 5: Dashboard Types and User Needs
Chapter 6: Designing for Insight
Chapter 7: Designing your Dashboard
Chapter 8: Building an End-to-End Solution
Chapter 9: Data Access Strategies
Chapter 10: Building Dashboards in SharePoint and Silverlight
Snapshots of the Book
I decided to take a few snapshots of the book, mainly because I like to look back at things I have been involved in. :)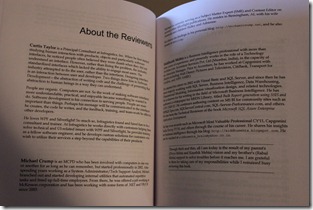 Wrap-up
Thanks to Packt Publishing for giving me this opportunity to review such a fantastic book. Also, thanks to you my loyal readers for reading my blog over the years and don't forget to leave a comment below for a chance to win a copy of the eBook.
Tweet
Follow mbcrump
No new comments are allowed on this post.