Introduction
All of the talk lately has been about which laptop/slate developers are going to buy for Windows 8/Touchscreen development. I haven't seen any developers talking about which touchscreen monitors they are going to be using on their main "beefed-up" development machine. In this blog post, I'm going to review the new Acer T232HL 23" Touchscreen monitor.
The Specs
23" Full HD edge-to-edge IPS touchscreen
10 Touch Points
1920 x 1080 resolution
100 million:1 contrast ratio - 5ms response time
60Hz refresh rate
178º horizontal, 178º vertical viewing angles
Integrated speakers
DVI - HDMI® - VGA - USB 3.0
Adjustable tilt
VESA mounting compliant
3-year limited warranty
My Existing Setup
My setup consist of a docked ThinkPad W520 with 2 23" LED monitors and all the normal peripherals one might expect. It is super-fast, includes a big SSD and even an external drive. As you might expect, neither of the monitors are touch screen and while doing touchscreen WPF, WinForms, Windows 8 and Windows Phone 8 work, I'm just using my mouse. Any time I need to use "pinch-n-zoom" or other gestures then I have to use the Simulator in VS2012 or keyboard shortcuts. So with this in mind, you can see why I would want to add at least one 23" touch screen to my existing setup.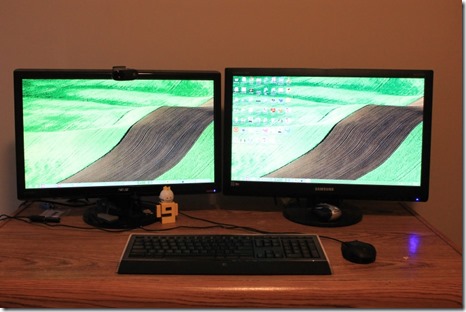 Unboxing the Acer T232HL
The Acer arrived in the following box and I've included several screenshots of what is included.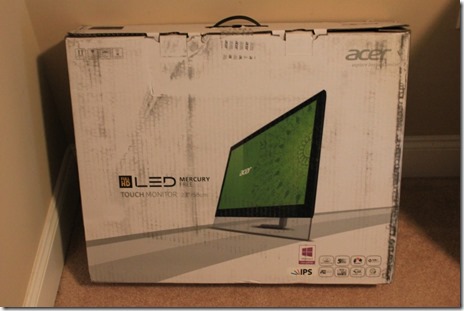 As you can see below, it comes with the standard cables, VGA, DVI, HDMI, Audio Cables, Power Supply (2 pieces) and USB cord to plug the monitor into the Windows 8 PC as well as a printed monitor/DVD with the manual on it.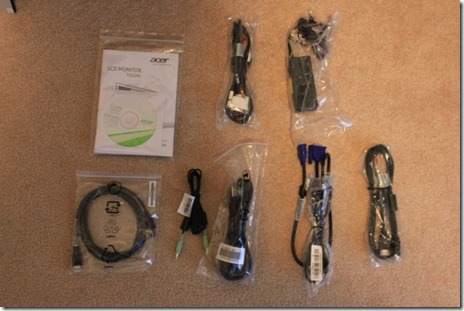 The screen is protected with this cover as well as another piece of plastic that you will take off once your monitor setup is complete.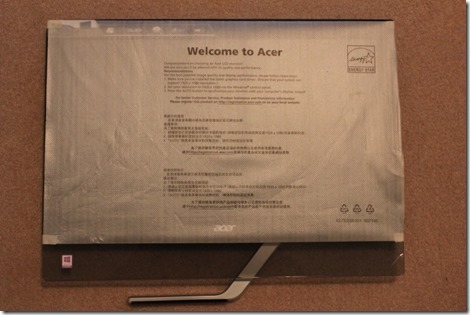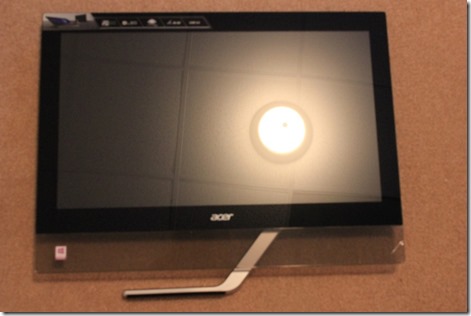 The Connections
As you can see from the screenshot below, we have the following connections starting from left to right.
USB – to plug into your PC to get touch support.
VGA – Video out option
DVI – Video out option
HDMI – Video out option
Audio – For integrated speakers
Power – Notice it is not your standard monitor power input (3 prong)
You also get 3 additional USB 3.0 ports on the side of the monitor.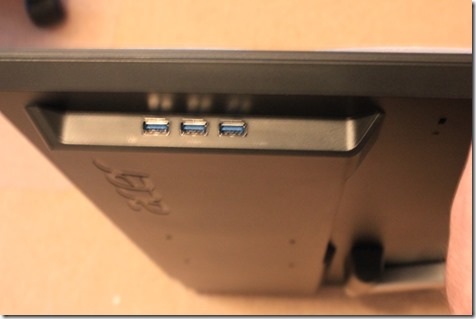 After Setup
After I removed my old monitor and setup the new one, not much changed in terms of my desktop appearance – but a major difference in screen clarity and touch support. For one, the touch support for Windows 8 worked out of the box. I immediately pulled up the charms bar and went to town. I also opened VS2012 and started the Windows Phone 8 Emulator and everything worked there (as expected).
Another shot, just to show you how thin this monitor is and the back view. (Sorry for the desk mess!)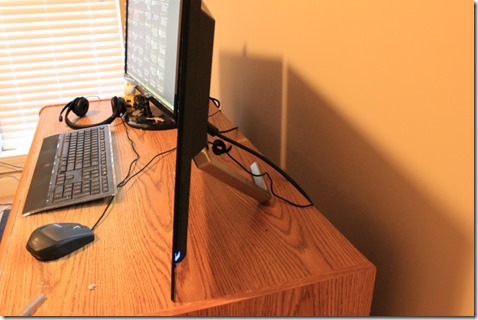 Wrap-Up
FYI: I did a lot of research before getting this monitor, so you will see that I don't have a lot to complain about. It is a rock-solid monitor for developers looking for a big touchscreen to use at home. I've listed out my pros/cons below.
PROS:
+ All of the standard options to hook this up to a computer exist (VGA, DVI, HDMI).
+ 10 Touch Points is great since I only have 10 Fingers. (More than enough for app testing)
+ Comes with 3 extra USB ports on the side of the monitor that are USB 3.0.
+ Certified with Windows 8 OS – works perfect using Windows Store Apps as well as everything else in the OS.
+ Nothing to install on Windows 8. – Just plug in the USB cable and you are done.
+ Rich Screen colors and very thin. 
+ Nice Manufacture 3 year warranty.
+ $500 USD makes this monitor the best bang for the buck for monitors in the 23" range. Going up to the 24" starts at $1K and up.
CONS:
- I wasn't very happy that it didn't use the standard power supply that most monitors use. You have to use the one included. No big deal, but I couldn't find any reason why they changed this.
- The USB Cable that shipped with the monitor was about 6 feet long. It would have been nice to of had a longer USB cable for extra room.
FINAL THOUGHT:
Great monitor! I'd definitely recommend it. (Disclaimer: No one is paying me to say that.) :)
Tweet
Follow mbcrump
No new comments are allowed on this post.